Introduction
Assessors play an important role in the assessment process. The Assessor Assessment (also known as verification) provides an objective assessment of each employee's competence by an impartial third party.
Its purpose is to resolve differences between the employee assessment (EA) and the supervisor assessment (SA) by providing an opportunity for the employee to demonstrate or document competence.
This process also ensures the system remains objective and fair across the organization.
Assessors are 'Subject Matter Experts' (SME). Typically they are:
A supervisor, foreman, engineer or trainer
Competent in the area they are assessing
Qualified in assessment techniques
Able to ensure all requirements are met
Roles and Responsibilities of the Assessor
Primary role of the Assessor:
Ensure employee understands what he or she is to be assessed on and what evidence is required
Ensure the conditions and resources required for assessment are available
Help employee to identify, gather and present evidence
Observe and record the employee carrying out the activities described in the competency unit (CU) — records should say what has been observed, how it was carried out and what it demonstrated
Responsibilities of the Assessor:
Assess products of the employee's own work
Question employee and record results
Authenticate evidence provided by the employee
Judge evidence and make assessment decisions
Identify gaps or shortfalls in employee's competence
Provide feedback to employee throughout the assessment process
Record employee's results
Skills of an Assessor:
What skills does the assessor need to have?
Know about the job being done
Know about assessing
Know about the standards
What skills does the assessor need to assess well?
Effective communication skills

Recognize body language
Listen actively

Observe objectively
Question effectively
The Assessor Assessment Process
There are four main parts to the Assessor Assessment process:
Planning the assessment
Carrying out the assessment and judging evidence
Providing feedback
Keeping records
A competent employee MUST:
Perform all the tasks in his or her job role properly
Know how to do the job
Understand why the job is performed in a certain way
Be able to do the job in any situation
Planning the assessment
The assessment plan identifies to the employee how he/she will be assessed, and must include:
When they will be assessed – task/opportunity, date, time
Who will assess them – is anyone else involved
What methods of assessment will be used – how will it take place
What they will be assessed against – parts of the standards
Any evidence they will be required to provide – format, copies, electronic
When the assessment decision will be fed back to them and progress reviewed – date, time
In order to accomplish this, the assessor should prepare by reviewing the employee's interim assessment result (IAR) and selecting the competency units (CUs) that will be included in the assessment. The CU selection is recorded in CMS Online. A screen shot of the list of selected CUs may be sent to the employee in advance.
The goal of this step is to ensure the employee understands when the assessment will take place, what he or she is to be assessed on and what evidence is required.
Carrying out the assessment: Methods of verification
There are a number of methods for assessing or verifying someone can perform a task or has sufficient knowledge of the topic or task. Below is a list of the most common methods used. Each is discussed below.
Observation
Work product evidence
Questioning
Discussion
Witness testimony
Prior learning
Personal statement
Simulation
1. Observation:
The following are the attributes of observation:
The best way is to watch an operator work on equipment or produce a product
Performed naturally at the workplace
Shows what the employee did
How he or she did it
It is practical
Can be observed being carried out more than once
Able to inspect the final product
Observation should be carried out whenever possible
2. Work product evidence or inspection of a product:
Product evidence or inspection of product is the examination of a product developed or manufactured by the employee. This could be:
A part manufactured on machines or by hand
A report
Documents, e.g., process logs, permit to work
A presentation
An outcome of task or procedure
A completed task (repaired or maintained equipment)
3. Questioning
Evidence can be provided by answering a series of questions, either oral or written, to substantiate the knowledge and understanding an employee has of activities he or she is undertaking. The employee should be able to describe a variety of situations and how to deal with them. The assessor should look for evidence that the employee:
Knows how to carry out activities properly, i.e., what underpins competent performance
Understands why, i.e., importance and implications of the activity
Knows what should be done if something unexpected happens, i.e., contingency
An effective assessment involves a variety of question types, including: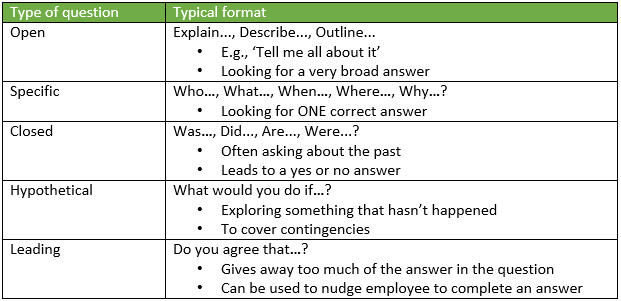 4. Discussion
Discussion enables a holistic approach to assessment that can test the validity and reliability of other evidence. In order to be successful, it must be well planned. Considerations during the planning for this type of method include:
What is purpose?
What is required outcome?
Meet evidence requirement, or fill gaps
Give employee a list of points beforehand
Recording evidence:

Audio, video, paper log
Must be clearly referenced
5. Witness testimony
If the assessor is unavailable to assess the employee at the planned time, witness testimony can be used, and should be:
A declaration by someone other than the assessor that he or she observed the employee
By another qualified assessor
A foreman attesting to a specific performance
A document written by a peer stating that the employee has met a certain criteria
Written as a formal document, signed by the witness, including name, position and contact numbers, and be auditable
6. Prior learning
A prior achievement, learning or experience that can be either performance or knowledge, e.g., certificates, qualifications, company awards, which must:
Be specific enough to meet the standard
Belong to the employee and be authenticated
Be current enough to work now
Actually prove either performance or knowledge
Be presented in a way that allows it to be judged
This is also known as accreditation of prior achievement (APA).
Remember, being trained is not the same as being competent.
7. Personal statement
As part of the knowledge evidence, the employee may provide a personal statement on a rare occasion when he/she cannot provide direct evidence. The assessor would confirm the content of the statement by questioning the employee.
The account written by the employee describing how and why he/she did the task, which can:
Prove knowledge and understanding
Describe specific situations where no other evidence exists
Explain other evidence where required
This method must be used carefully:
It is not objective evidence
Must be supported by other evidence
Should be countersigned
8. Simulation
Simulation is used when the employee is unlikely, within a reasonable time frame, to have the opportunity to demonstrate competence at the workplace. Any simulation will have to mirror real activities and must be stated in the assessment plan. The following should be observed:
All evidence of competence should come from normal work activities
Only as an exception, where these activities are not readily available should simulation be used
Check Evidence Specification (in CMS Online) or Assessment Strategy for guidance
Where used, simulation should be:
Realistic simulated environment
Safe
Properly organized
Competently administered
Providing Feedback and Keeping Records
When evidence is sufficient, the employee is informed of his achievement and when evidence is insufficient, the employee is given clear explanations and advice. Feedback should be constructive and appropriate to the employee's needs and confidence.
Records must be kept confidential and secure. All data is entered into CMS Online, where assessment profiles are updated automatically. Any comments and/or evidence to support a competence level should also be loaded to CMS Online.
Key Points:
Ideally, the assessment should be a face-to-face meeting between the employee and the assessor. If this is not practical, then the assessment may be done remotely
Typically, around 30% of the assessed competencies are verified (this range may vary in individual cases)
The assessor will mediate between the employee and the supervisor (i.e., resolve different assessments)
The assessor's final determination becomes the final assessment result
Employees have the right to appeal against any decision or judgment made by the assessor, and will be made aware of their rights and the procedure

Ready to begin an assessment? See click-by-click guidance for completing an assessor assessment in CMS Online here.