When you complete mandatory training not linked to CMS Online, you may submit evidence of your training completion.
The Mandatory Training section on the CMS Online dashboard displays role group status. Click through a role group to see Mandatory Training roles and lists of training requirements.
Each Mandatory Training can be expanded to display all learning associated with it.
A Mandatory Training Role may have one or multiple learning events. CMS Online will display the role status as "lowest" status of all training associated with it. So, if one course is overdue, then the entire role will display as overdue.
To submit completion evidence, click

.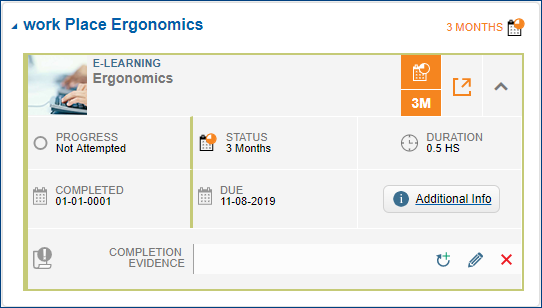 Add an Evidence Title, comments, upload an evidence file and select a course completion date. Once complete, click Save.
Your training completion will be updated and an automated email will notify your Supervisor that you submitted completion evidence.