After your competency development plan is built and approved, you may access it any time by clicking Learn/My Learning on the left side navigation menu, or clicking the plan box in the Competency Development Plan swimlane on your dashboard.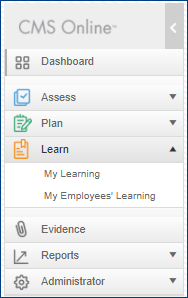 When viewing your competency development plan, you can launch e-Learning or register for training by clicking

in the Register column. Course completion dates will update automatically after you complete e-Learning.
Click the

icon to upload a completion date and course completion evidence for any training that doesn't automatically update in CMS Online. You can also upload evidence against any training with an existing completion date.
In addition, you may also upload comments and/or evidence (such as certificates) to support your progress.